Dafina: Moroccan Jewish Shabbat Meal (Recipe)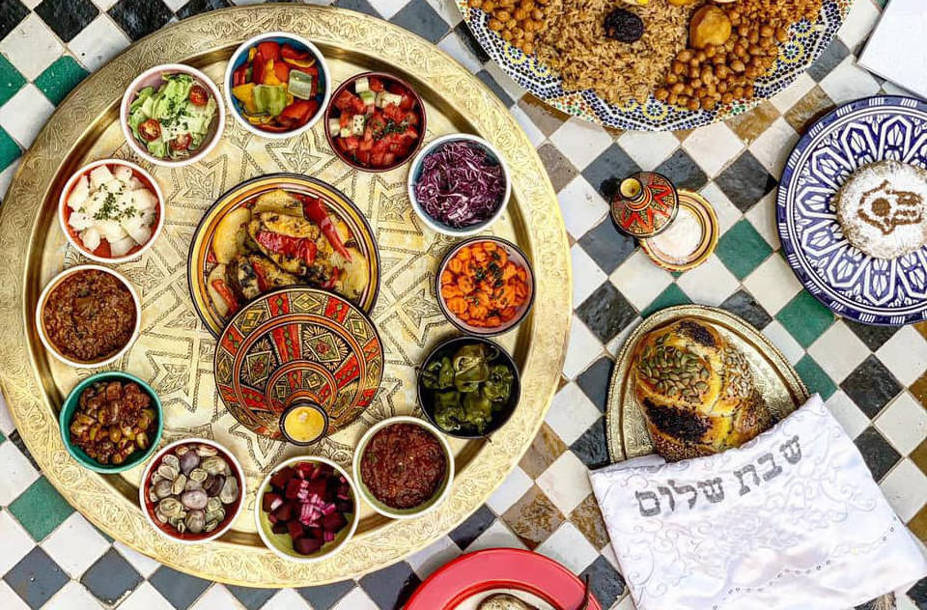 I was asked to sit at the table to share the mandatory Saturday lunchtime meal with Moroccan Jews, named after the Skhina or Dafina regions. Skhina could be translated very freely as "simmered" and Dafina as "muffled"...
I could only identify one mystical meaning of Skhina in the Hebrew language in which the word would mean something like "gift of God"...
It is a very special kosher dish, born of a religious prohibition: Jews cannot light a fire on Saturdays.
This Saturday begins Friday evening at dusk and also ends at dusk on Saturday evening.
Browse a selection of the best Morocco Jewish Tours Packages that include a visit to the Moroccan Jewish Museum as well as a cooking class with a Jewish Family in Marrakech
Skhina is a very rich, complete dish, including meat, cereals, greens, carbohydrates, and various vegetables, gently simmered from dusk, so the next day at noon. It has a smoky aftertaste due to prolonged cooking and all the elements, including the meat, melt in your mouth.
It's delicious and healthy, even if it's a little stuffy...
The success of this dish depends on the quality of the ingredients used in the cooking process, which must be gentle and not subject to any jolting.
When was this recipe made?
It's hard to say. The meeting of Sephardic Jews who arrived in North Africa, fleeing persecution in Spain by Isabella the Catholic, with Moroccan cuisine, probably gave rise to this dish.
We know that potatoes only arrived in Europe and the Middle East in the 16th century, so the daf as I know it probably has existed for a few centuries.
Ingredients
1 or 2 glasses of chickpeas soaked the day before.
1 kg to 1,5 kg of small potatoes
1 soft potato
shank meat
5 eggs
oil base
1 tablespoon sugar or 2 dates
2 tablespoons paprika
1 tablespoon spicy paprika (falcutative)
1 tablespoon Curcuma
1 teaspoon of cumin
2 cloves of garlic
salt and pepper
2 glasses of wheat
2 glasses of rice
Preparation
Soak the chickpeas in a basin of water overnight
Place the soaked chickpeas and garlic head in a large pot and add the meat and veal foot on top
Make the stuffing by mixing its ingredients and mix it well
Roll this stuffing into strands of about 10 cm in diameter
Place the strands on a gauze and tie the 2 ends together
Mix in a plate the rice, salt, pepper, saffron, oil, raisins, arrange everything in another gauze and tie the 4 corners
Do the same for wheat
Carefully place these packages of rice and wheat on top of the meat in the pot
Peel the potatoes
Add them to the pot and distribute them evenly
Add the eggs, well washed, with their shells
Then gently place the pieces of rolled stuffing
Season with salt, pepper, saffron, paprika, oil
Cover with water to the height of the potatoes, boil and cook over medium heat for 1 hour
Adjust the water
Add the spoonful of honey
Bake at 100°C, no more, and cook, checking the water from time to time
Serve in the cooking utensil if it is a beautiful cast iron terrine. Otherwise, in a earthenware dish: to do this, take the different ingredients, taking care not to break them, assemble the dish starting with the most resistant and reserving for the top the most fragile ones
Serve hot. Don't forget the mahia (brandy) after this meal
by Yahua Avner last modified Monday, 3 February 2020 at 05:02 pm