Worry-Free Bespoke Tours to Morocco!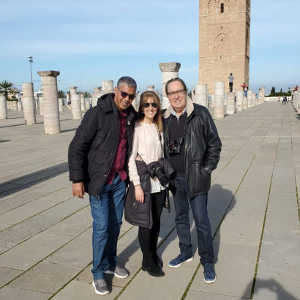 Join first class Jewish Heritage Tours to Morocco – fully escorted with a professional guide / luxury transport throughout the country, boutique hotels and 24/7 professional support on the ground for peace of mind. These are fascinating and cultural Morocco tours for travelers interested in Jewish Heritage
Explore the holy trail of religious sites with historic synagogues and holy tombs. Discover the beauty of Morocco through the lens of Jewish Heritage Tours. Visit the vibrant and colorful markets and check out the spice souks.
Capture the past at the remains of old Jewish Quarters. View stunning landscapes and famous Moroccan sunsets. Tour the Andalusian gardens and take camel safari trips in the Sahara desert of Morocco.
Visit the Jewish Museum – a first in Africa, and the only one in the Muslim countries. For a more immersive experience, attend Jewish services and light Shabbat with a local Jewish Family to complete the Morocco Jewish cultural experience.
Ps: All Tour Packages are Kosher friendly
Looking for a great starting point to planning your trip to Morocco?
Check out our most popular tours below
Our Morocco Jewish Heritage Tours listed below are designed for a wholly Jewish experience. You can revise any itinerary to tailor your holiday plans, from the number of days, to personal travel needs and budgets. Please let us know your travel preferences, and we will be happy to send you a proposal.
On-line booking facilities are available for all our Jewish Heritage Tours to Morocco. Explore the itineraries below or craft the right tour for you!
Stories From Our Customers
100% of our travelers recommend us!
We are home and absolutely LOVED Morocco! Thank you so much for all your help, and your staff's. What a wonderful, memorable, perfect two-week tour in Morocco. We are definitely going back. I'm raving about the trip and your agency.

Both Sam and I felt safer in Morocco than we would in Europe or anywhere else in the world. The boutique hotels were gorgeous, especially Dar Anika in Marrakech and the Lma Lodge in Skoura Oasis. Vanessa the owner of Lma Lodge is amazing. It was the perfect ending to a perfect journey. The night in the desert with the Gnaua Band and sleeping under the stars was unforgettable

Sherry beautifully organized everything and we now know why you are called the number one specialist in Jewish tours of Morocco. I cannot also speak highly enough of Ishmail [our driver and guide for the whole trip] he was always so cheerful and caring and extremely professional

Every city we visited was unique and interesting. The kasbah's, the souks, and the ancient Medinas were all remarkable. Morocco Jewish Tours had made appointments with local guides for each city, and they were well informed and polite. We will definitely be contacting you when we decide to plan our next trip to Morocco. I wish you did Italy too! Oh well. We are on our own on that one